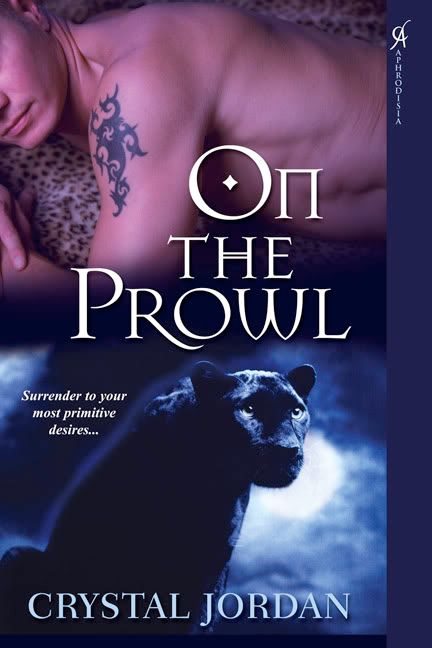 ON THE PROWL by Crystal Jordan
Meet the Cruz brothers. They look human—except for the golden sheen their eyes take when they're aroused beyond control...and the way their claws come out when it's time to play rough. They're Panthers, ancient shapeshifters, and their survival depends on mating to bring out their wild sides...
Undeniable
When Antonio, the strong, sexy new leader of the Panther pride, meets luscious Solana in a dark alleyway, their passion lights up the night. But she's an outcast, an impossible mate—and her touch makes him lose all control...
Irresistible
Ex-model and businesswoman Andrea doesn't need anyone—until she meets Miguel, who tempts her mind with daring games and teases her body with dark, forbidden pleasure she can't resist...
Indescribable
Wild twins Ricardo and Diego do everything together—and their women appreciate the teamwork. Until shy Isabel takes refuge in their pride, and both want to claim her. Of course, sometimes two mates are better than one...
Places to get it on the web:
Barnes & Noble
Powell's
Amazon
Chapters.ca
BOUND TO PLEASE by Lilli Feisty
FROM FANTASY TO ECSTASY
Ruby Scott is a beautiful, quiet event planner who leads an oh-so-respectable life. Yet the things that go on in her secret fantasies are anything but. She has every intention of keeping her hidden desires under wraps-until she meets a gorgeous, hard-muscled man ten years her junior. Mark St. Crow is a gifted, up-and-coming musician who collects erotic art and loves to "play" women as much as his piano. After one night of uninhibited passion, Ruby realizes there's no turning back. But as she surrenders to her deepest needs and lets Mark control every forbidden thrill, her passion for him builds. Can the wild, intoxicating nights they share lead to a love that will last forever?
Barnes & Noble
Powell's
Amazon
Chapters.ca