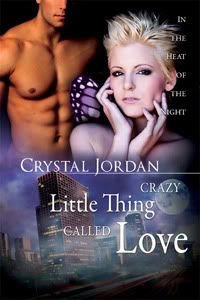 Crazy Little Thing Called Love
by Crystal Jordan

Love can drive you over the edge. It can also let you fly.
An
In The Heat of the Nigh
t story.
Pixie Parthon worked hard to make her music production company a success. Anyone who gets in her way gets the business end of her Fae magic. Her savvy business sense kept her family afloat for years, but now that her musician brother is mated and off on a world tour she's feeling left in the dust.
Maybe it was a faint wish for a little love magic for herself, but she didn't expect one night of cutting loose to leave her marked for life. A little love bite is one thing. Give up her hard-won independence to a pushy alpha werewolf? She'll pass.
Malcon is just as shocked as Pixie, but for a different reason. From the moment he saw her, his desire went far beyond getting into her pants. When she agreed—begged—to be bitten, he believed she also sensed their destiny to be mates.
Now it's too late. Nothing will convince Pixie that he has no intention of clipping her wings—not even a month's worth of orgasms on call. Crazy as it sounds, love is all he wants from her. Even if it means letting her go…
Buy it
here
!
~~~~~~~~~~~~~~~~~~
Her love for two men could save their future. Her secrets could destroy them all.

Recently re-elected Chancellor Collin sur-Gaerig is a rising star on the political scene, and everyone expects he'll soon be rewarded with an estate and title. He also has a dirty little secret: he's in love with his manservant, Harral. If anyone—especially the wife he's expected to take—discovers their affair, all his aspirations will go up in smoke.

The mysterious woman he finds lying half-dead in the street is strong, beautiful, independent…and aroused when she catches him and Harral in a compromising position. As Aelis worms her way past their closely guarded defenses and into their bed, they realize she's the perfect match for both of them.

But Aelis has a secret of her own, an ex-lover's blackmail scheme that could get them all killed. To save the men she's come to love, she's willing to sacrifice her own happiness, maybe even her life.

Collin's not about to let that happen. For the first time in his life, he's willing to risk it all in order to have it all. Even if it means he could lose the man he's loved for years—and the woman they both want to love forever.

Warning: This book contains explicit sex, including m/m and m/m/f; violence; bad language; financial irregularities; uneaten dessert; gratuitous invocation of various deities; and breakfast-table hijinks you're not likely to witness at your neighborhood IHOP.