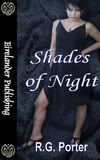 Her siren's song leads to a deadly conspiracy.
A vampire trained to hunt those who have rejected vampiric law, Krystoff finds he is knee deep in a conspiracy to not only overthrow the Council of Elders but humankind itself. As the answers to his burning questions go unanswered, he wanders into a smoke filled club where he hears the purest voice ever and meets a piercing gaze that tugs at his soul.
Half human, half Fae, fearful of vampires, Alexandra knows how to dodge those who walk the shadows. That is until she is drawn to the stage and fulfills her need to sing out a song of loneliness that levels Krystoff's attention on her. He is a vampire she should run from but cannot escape.
Fate has brought them together for a purpose—save the world from being plunged into an endless darkness…
…but that requires they trust each other.
Buy "Shades of Night" here!